ROOF ASSESSMENT
VILLA MADELEINE: HURRICANE MARIA
LOCATION:

43 RESIDENTIAL VILLAS | ST. CROIX, USVI
REI/CSE conducted site visits to determine the overall condition of the roof systems after Hurricane Maria, to determine the need for remediation or replacement for forty-three (43) individual, residential villas located on St. Croix, USVI.
Four (4) primary roof areas on the subject buildings are identified as follows:
• Front Shed (FS)
• Main Hip (MH)
• Pool Shed (PS)
• Bedroom Hip (BH)
The roof assembly is reported (and partially verified) to consist of 26 gauge, corrugated metal roof panels, 2×4 inch wood purlins (framing members oriented perpendicular to the roof slope that the metal roof panels are attached to), plywood roof deck and 3×6 inch exposed primary structural framing. Larger exposed beams exist along the ridges of the hip roof configurations. The roof panels included a mixture of original metal roof panels that had been coated with a pigmented elastomeric coating product and replacement metal roof panels that had a painted finish. The roof panels were noted to span the full length of each roof section (i.e. the panels extend from the ridge to the eave with no end laps). The side laps of the roof panels were noted to be wider than one (1) corrugation. While this seemed like a more robust detail to resist water intrusion, it actually was problematic due to the ability of water to penetrate the side laps and rest between the overlapping panels. Various temporary repairs (tape, etc.) resulted in corrosion and further water intrusion.
For purposes of evaluating the adequacy of the existing roofs to receive a coating, a limited adhesion testing in accordance with ASTM standards (D3359) was performed. Additionally, a cursory review of the applicable building code was performed to determine the approximate code-prescribed wind pressures associated with the subject roofs, since any replacement of the existing roof system would most likely require the new roof system to meet requirements including code-prescribed wind loads.
We provided two (2) options; Option A: removal + replacement of roofs o subject buildings; and, Option B: partial removal + replacement of all low slope shed roofs and repair of remaining steep slope roofs, completely sealed to prevent water intrusion.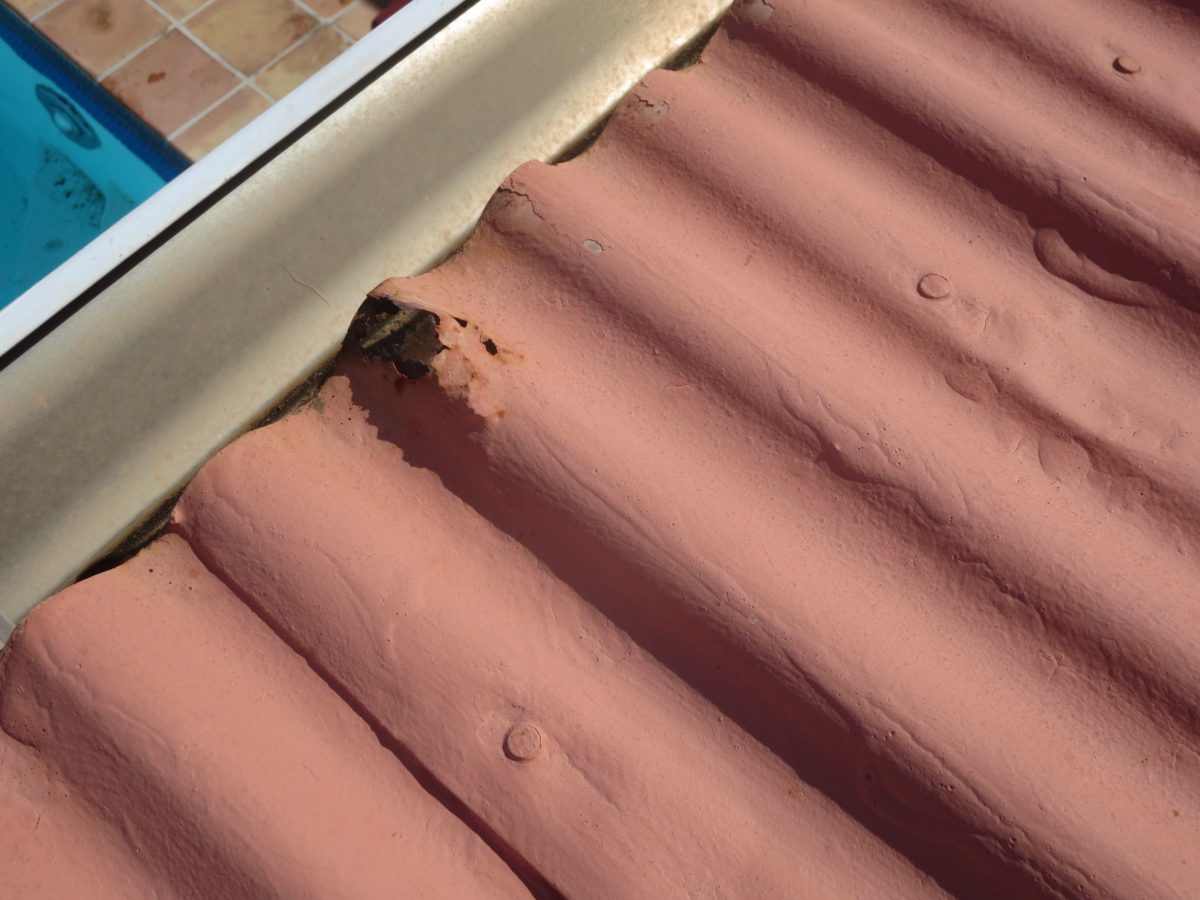 HURRICANE MARIA ROOF ASSESSMENTS