WINDOW ASSESSMENT
RICHMOND INTERNATIONAL AIRPORT: CONCOURSE B
This Concourse's exterior walls are comprised of brick veneer, insulated metal wall panels + storefront-style windows.  It has been reported that a significant number of the glass units have been replaced because the units have "fogged" over, most likely due to the failure of the insulating seal of the glass unit.
Our assessment determined that the exterior pre-molded glazing seals at all storefront windows were in a failing condition, as all of the seals have become brittle, resulting in shrinking. Gaps in these seals were observed at all windows, and some windows even showed that the pre-molded seals were displaced from their original location. Additionally, all exterior sealant installed at the window locations (window frame joints, window mullion locations, + at the window frame to adjacent surface joints) had failed.
The current failure of additional glass units due to the failure of the insulating glass seals was evident. The continued failure of the original glass units will occur in the same manner. The interior pre-molded seals had begun to exhibit failure too.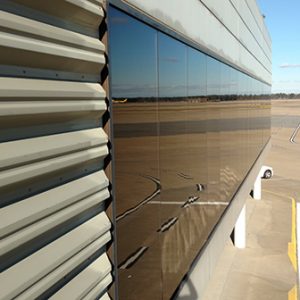 REI recommended that the glass units + all seals of Concourse B storefront windows be removed + replaced with new glass units + seals.