DAMAGE ASSESSMENT
FMG: FACTORY HURRICANE MARIA
LOCATION:

HUMACAO, PUERTO RICO
REI Engineers was hired by Factory Mutual Insurance Company representatives to determine the condition of the roof after extensive leaking + patching from roof top equipment impacts and if those damages justified a roof replacement.
Findings of the condition assessment resulted in REI providing 2 options; one being a complete roof replacement, where all existing membrane + insulation should be removed down to the deck and replaced with a new system to meet the current building code and all insurance requirements. While it was the most costly option, it would result in the best long-term solution to the ongoing leaks. An alternate option provided was to replace all areas of wet insulation + base ply and install a new surface ply membrane throughout.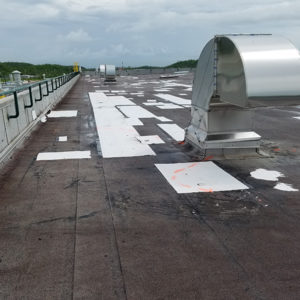 The white areas represent recently installed patches, reportedly from repair attempts after Maria.