ROOF + EXTERIOR WALL RESTORATION
JONAS FEDERAL COURTHOUSE
LOCATION:

UPTOWN CHARLOTTE
REI provided an evaluation and recommendations for the roof and exterior
walls above roof level at this facility. The City contracted REI to complete Contract Documents and Construction Administration for the recommended scope of work. REI worked closely on the design with the City and GSA (the end user of the building), as well as the Historic Landmarks Commission, to ensure all entities' requirements were properly met.
The scope of work consisted of replacement of gravel-surfaced built-up asphalt roofs with two-ply modified roof systems and/or PMMA waterproofing systems; replacement of steep slope EPDM roof systems with standing seam copper roof systems; tuck pointing of brick masonry and limestone exterior walls and restoration of wood framed windows.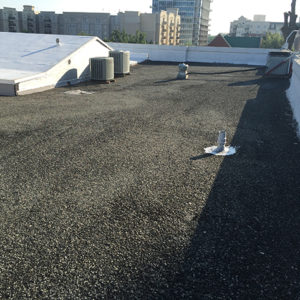 The Jonas Federal Building is a historic building (est. 1915) located in uptown Charlotte and is currently owned by the City of Charlotte and leased to the Federal Government